Home Renovation Company in Canada

Gets a Compelling Brand Positioning
The client is a budding home renovation and kitchen remodeling specialist striving to carve its niche. 'Stand out from the crowd with a solid brand-building process' – this was the need of the client when they first approached us. Their initial requirement was to create a logo and an appealing website that will help them build their brand.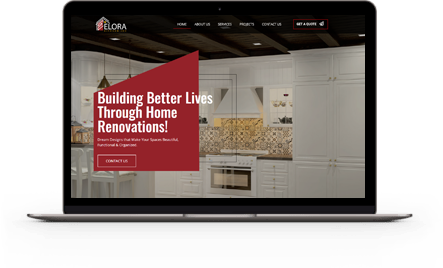 The client was trying to establish their presence in a rather competitive marketplace. The branding and social media marketing experts at Cleffex evolved a strategy to boost leads and sales, word-of-mouth referrals, and a lasting social media presence.
We kick-started the collaboration by building an expressive logo that reflects their brand eloquently. Our web development and design team took their web development project and created a simple yet powerful website with SEO-optimized content.
Then we moved on to branding. Our digital marketing team started by helping the client discover their brand identity, enhance it, and launch a positive brand perception within your target market. We focused on defining their brand by creating a niche and finding a unique selling proposition (USP).
All our branding and social media activities are bringing results to the clients in the form of booming inquiries and increased demand for their services.
Our knowledge and expertise in both emerging technologies and project leadership allowed the client to meet specific technology goals, be better prepared for future evolution, and stand out as industry leaders. We helped our client win new businesses and strengthen their reputation as a service provider with the capabilities to deliver cutting-edge solutions.
We started with absorbing, sharing, and analyzing information from them by engaging in discussions to bring out their goals, visions, and brand value.
We focused the branding efforts around social media marketing (SMM) and social media optimization (SMM) and paid campaigns across multiple platforms.
Created an expressive logo for the client

Designed and developed their website

SEO-optimized the website content with regard their target region

Helped them determine their brand value and USP

Developed a solid brand approach before the actual design of the identity

Creative designs and posters get promoted frequently

Promotions of their services, modular kitchen designs, office furniture/cabinet designs, and home and kitchen remodeling at regular intervals

Location-based Google paid campaigns and social media campaigns

Social Media Optimization

Backlinking from other relevant sources
Our people with technical prowess help enterprises to boom in the digital age.
Check out a few of our success stories