A customized platform delivers

airline innovations

for this Swedish Company
The client is a Swedish technology provider that specializes in airline, IT and web solutions. The company prides itself on empowering airlines to be effective retailers and efficient operators. Their in-house team of developers is an innovation partner for several airlines to merchandise and sell travel content worldwide through different channels.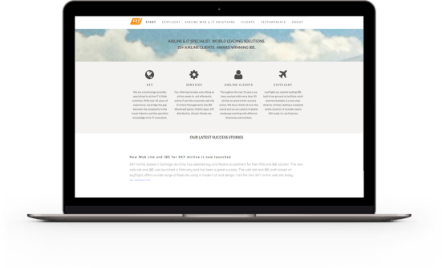 The client needed a way for their clients to gather information, manage their travel, make payments etc. A mobile application was the ideal solution as it would allow their users to access data from wherever they needed to.
 The client wanted to create an enterprise mobile platform for their customers from the Airline industry. The platform was supposed to be integrated with their existing Air Passenger Services System. This created the need for skilled and capable developers.
We worked to develop an easy-to-use mobile application that allowed their customers to access the required data and manage their bookings. It was a shrink-wrapped product that contained web, iOS, Android and BB-10 applications with MAM, MEAP, MDM support. Along with other developers from across 3 locations, we developed the required framework.
We deployed around 15 iOS, Android and 2 BB-10 apps to the development environment. The framework included package manager, booking engine, check-in, promotion support, payment gateway integration, Passbook integration, user account sections, credit card scanning module, analytics, schedule management etc.
Our self-organized team of Agile developers worked with the developers at the client's end to develop booking engines for multiple airline companies. The robust platform has been designed with merchandizing and retail best practices at the core. It enables increased ancillary revenue, expanded market reach, personalized booking flows and seamless third-party integrations.
At present, the application framework is being used by more than 15 airline companies worldwide including Go Air, Viva Colombia, Viva Aerobus, BMI Regional, South African Airline, Air Iceland (Flugfelagg Islands), TUI Fly, WOW Air, Punto Azul etc. Additionally, we have been able to extend our collaboration and have further worked on some websites for the company's clients as well.
Our people with technical prowess help enterprises to boom in the digital age.
Check out a few of our success stories