Car Dealer in Canada Gets

a Powerful Social Media Presence
Many studies have revealed that social networks play a greater role than a dealer's website when it comes to influencing car shoppers' decision to choose a dealership. That being the case, no car dealers can ignore the revolutionary power of social media in reinforcing their brand.
Here's a success story of one of our clients, a leading car dealer for KIA vehicles in Canada, in underpinning their social media presence through creative designs, resourceful & engaging content, and other action-inducing social media promotions. The client approached us through a referral from one of our associates.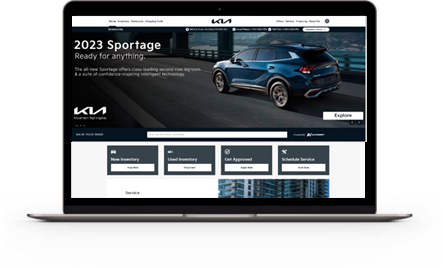 The initial need of the client was to have a captivating logo that resonates with their brand well. After the logo approval, we moved ahead with increasing their brand awareness through a systematic social media strategy. Powerful and engaging social media activity on a regular basis helps car dealers in many tangible ways: it brings more customers, improves the dealership's reputation, and drives overall digital marketing success.
Our focus was on formulating a thoroughly business-focused brand-awareness strategy to bring in leads, drive revenue, and attain goals. The client's need was to bag an exciting online presence through organic social media.
Through effective sharing of photos, images, and infographics across multiple social media platforms, we have achieved a smart visual strategy for the client that is generating continuous sales and positive comments.
Our knowledge and expertise in both emerging technologies and project leadership allowed the client to meet specific technology goals, be better prepared for future evolution, and stand out as industry leaders. We helped our client win new businesses and strengthen their reputation as a service provider with the capabilities to deliver cutting-edge solutions.
We formulated a branding scheme centred on social media to establish the client's personality and voice as a reputable and trustworthy KIA dealer in Canada. Our other focus areas were building relationships by sharing entertaining and informational content with the intention of engaging customers at every stage of their buying journey.
We began with creating a captivating logo

Smart Social Media optimization (SMO) strategies to manage and nurture the brand's message and online presence 

Location-based targeting by serving relevant messages to the client's clearly defined audience through display ads

Paid campaigns and sponsored marketing messages on popular social media platforms

Creative designs at regular intervals to accomplish successful social media sharing

Artistic posters to promote their customer reviews and testimonials

Creative social media posts for their community and other activities, like event sponsorships, etc.

A skillful combination of Facebook and Instagram promotions daily

Engaging and powerful content for poster promotions that are customized for each platform

Regular promotions of new & pre-owned vehicles and other services & offers offered by the dealership
Our people with technical prowess help enterprises to boom in the digital age.
Check out a few of our success stories