Starting an ecommerce business? Here's an article to help you learn about the various ecommerce business models that are out there. We discuss in detail the different categories available, how are they different, the benefits they offer, how can you leverage their advantages, and which model suits your business. So, keep scrolling for an insightful read on ecommerce business models and the successful implementation of an online store.
Starting an ecommerce business
Let's start from the basics – understanding what exactly is ecommerce. In simple terms, it is the act of buying and selling things online. Ecommerce is often also called online retail or e-tail.
A successful ecommerce business requires intuition, extensive knowledge of the market, a solid business plan, and meticulous research into different products. If you are thinking of starting an ecommerce business, you need to understand the different types of ecommerce business models that are present. Before initiating your website development, a deep understanding of the topic will help you figure out what works best for your business. So, without any further delay, let's begin.
Major ecommerce business models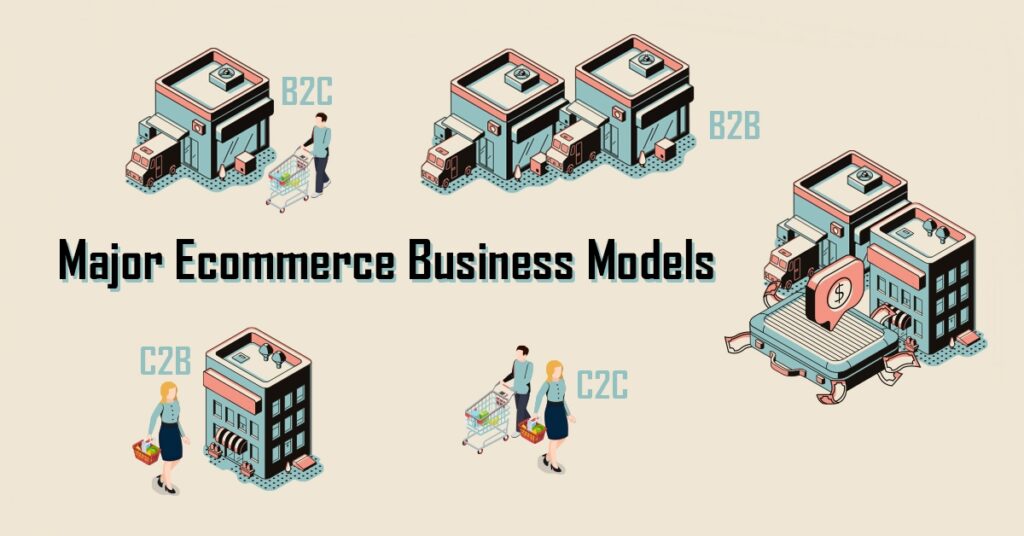 Traditional ecommerce (B2C)
The B2C sector is what we generally think of when we say ecommerce. Traditional ecommerce companies sell consumer products, for which they have an inventory and a warehouse to store them. Order fulfillment involves, a customer choosing a product, and the company shipping that product to the respective customer within a stipulated time frame.
This is the most common option for people starting an ecommerce business. However, it would require an initial investment as it requires an inventory and a warehouse to set up.
Business to Business ecommerce (B2B)
It is one of the fastest-growing ecommerce business models available today. It is when a business sells its products or services to another business, either as goods or supplies, in bulk at wholesale prices.
B2B is evolving rapidly as more and more users are demanding better opportunities for marketing and merchandising. Therefore, this area poses growth for ecommerce jobs and will continue to grow over the next few years. However, it is also a challenging ecommerce business model for start-ups since it requires massive investment.
Manufacturers/ Direct to Consumer (D2C)
Some manufacturers and product distributors have now realized that they can directly offer an ecommerce model to their customers and completely bypass the retail shopping experience. More and more manufacturers are now opting for this ecommerce business model since it is more profitable for them to sell their products on their own site, rather than on a third-party website.
You do not have to be a big manufacturer to choose this model when starting an ecommerce business. If you have your own product, you can easily offer that directly to your potential customers on your ecommerce website.
Consumer to Consumer (C2C)
These ecommerce websites allow users to trade, buy, and sell amongst themselves, in exchange for a small commission that is levied by the website. Although it sounds lucrative, this ecommerce business model requires careful planning. Some examples include eBay, Craigslist, and several other auctions and classified sites.
Consumer to Business (C2B)
It is another ecommerce business model that is slowly gaining prevalence. It is one where a consumer sells goods or services to a business. While not very common, this model is popular for reverse auctions, and service provision websites like Upwork. Several blog monetization strategies like affiliate marketing and Google AdSense also fall under this model.
Branded business
A branded business can be any of the first three mentioned, and potentially all three of them. As a branded business, you could be manufacturing your own products, or using the help of partners to manufacture them. You could sell them to the retailers at a wholesale price or directly to your customers. In this ecommerce business model, you could even sell other related products that are not your brand in a partnership but is something you feel your customers would like.
You do not have to be a very large company to choose this option. The important thing is to build a brand – something your target audience will relate to and will respond to. Although it might take a lot of work and is very rarely an overnight success, when done right, it can be one of the most profitable and successful ecommerce business models. You would need to focus on your digital marketing strategies to achieve success in establishing your brand.
Print on Demand (PoD)
It is an ecommerce business model where a business can sell a wide range of products that have their own custom designs on them. In this case, you do not have to buy or carry inventory since all the products are printed on-demand. They are then sold by a third-party vendor that is an extension of your business that handles printing, packaging, and shipment to the customer.
There are several PoD partners to work with if you are interested in choosing this model when starting an ecommerce business. Some of them are even available on popular ecommerce platforms like Shopify. PoD is an excellent option for beginners who are not able to invest much financially in the beginning but have good design skills. You can also leverage UI UX design services from an experienced team to create unique products.
A PoD ecommerce business model gives you the opportunity to create a brand from the scratch. You can make it whatever you want it to be – with your design, your voice, your direction, and your vision. Once your business starts to take off, you can start to print your own products, build an inventory and manage your shipments on your own. This will further increase your profit margins by a considerable percentage.
Informational product
An informational product is not a tangible product that a company has to send out to a customer, but instead is a digital product that the customer either has to download from the company's website or has credentials that let them access the content they are paying for. One example of this ecommerce business model would include a Netflix subscription that lets you consume digital media products for a fixed amount. It also includes any other digital products like e-books and PDFs that need a payment to be downloaded.
Profit margins are comparatively higher on digital products. That is because once created, they can be sold multiple times, without ever having to purchase or build more inventory.
Types of ecommerce business revenue models
Apart from direct revenue from ecommerce sales, there are several other ways you can make money through ecommerce. Here are some such ecommerce business models you can try.
Affiliate Marketing
It is when you do not have a product of your own, but instead, you promote and pitch someone else's product. If a user that you refer purchases something from the brand you promoted, then you would get a share of the sale.
It is a very lucrative and profitable business model, and many people have made revenue that way. There are several ecommerce websites that have affiliate programs offering their affiliates a share of their revenue.
Dropshipping
The term refers to an ecommerce business model wherein a person opens an online store just for storing and selling another person's products. The host platform owner does not have to see, buy, touch, or ship that product to the customer themselves. It is another low-cost option if you are thinking of starting an ecommerce business. Since there is no financial obligation for inventory, it lets you sell a large variety of products on the website with little to no inventory investment at all.
However, dropshipping takes a lot of time and effort, along with networking and communication. It involves extensive research, meetings, persistence, and sometimes even financial investment to convince a manufacturer to work with you.
Wholesaling and warehousing
Wholesaling and warehousing services in ecommerce need a lot of investment in the beginning – you will have to manage inventory and stock, keep track of orders and shipping info, and above all invest in the warehouse space itself.
What next?
Now that you know what ecommerce business models, product options, and revenue classifications exist, you are ready to get started. No matter what model you choose, you would need the help of professionals to help set up your online store when starting an ecommerce business. Make sure you approach an experienced software development company or an ecommerce development to build a custom website for your unique business needs.
If you have any further questions and queries about any of these business models, feel free to drop a line in the comments below.