Targeted Digital Marketing Gives an Edge to This

Leading Canadian Car Dealership
Our client is a leading Mitsubishi dealer in Canada that sells both new and used cars. With an unrivaled and well-earned reputation amongst its clientele, the company was looking for effective ways to increase its customer base through digital channels. With the advancement in technology, it had become imperative for their business to adopt new digital strategies to meet the changing consumer requirements.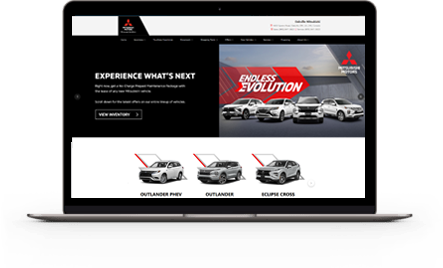 We quickly realized that car buyers are using the internet not just for research, but also to find reliable dealerships near them. In fact, customers tend to engage in multiple digital interactions with dealerships before they make a purchase. This required us to develop a local marketing strategy that focused on social media optimization based on geographic specifications.
We came to the conclusion that an effective digital marketing strategy and attribution is the strongest way to connect with potential customers and build brand awareness.
With the help of creative marketing collaterals and efficient social media optimization efforts, we were able to improve the website traffic and the digital brand presence. The success of the digital initiatives we implemented led the client to focus more on lead generation through digital platforms and collaborate with us to set up a dedicated team for it. 
Our knowledge and expertise in both emerging technologies and project leadership allowed the client to meet specific technology goals, be better prepared for future evolution, and stand out as industry leaders. We helped our client win new businesses and strengthen their reputation as a service provider with the capabilities to deliver cutting-edge solutions.
We conducted an in-depth digital audit to assess their active media channels and to evaluate the efficacy of their existing campaigns. Subsequently, we were able to brainstorm effective tactics that would meet their marketing objectives and thus developed a digital strategy that the client was pleased with.
Our strategy involved:
Leveraging social media marketing through powerful visual content to communicate to the existing and potential customers. 

Deploying paid social media campaigns that specifically targeted the right audience for the right vehicles. 

Using geo-location data, customer-behavior analysis, and remarketing ads to focus on generating quality leads that converted.
Additionally, we developed an analytics tool to track and manage the front end of the platform. The tool would track different kinds of user information like usage of Ads, live channel traffic, live channels, vod (video on demand) traffic, etc. To make the reporting easily understandable and interactive, we offered informative dashboards and graphical representations of data.
Our people with technical prowess help enterprises to boom in the digital age.
Check out a few of our success stories